---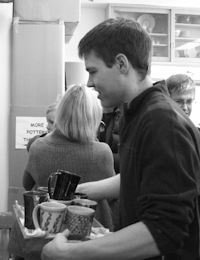 ---

The following is Sam's memorial tribute to Martin.

Martin Samuel Uhlick
Iíd like to start by reading Christina Rosettiís Poem, Let Me Go.
Let Me Go

When I come to the end of the road
And the sun has set for me
I want no rites in a gloom filled room
Why cry for a soul set free?
Miss me a little, but not for long
And not with your head bowed low
Remember the love that once we shared
Miss me, but let me go.
For this is a journey we all must take
And each must go alone.
It's all part of the master plan
A step on the road to home.
When you are lonely and sick at heart
Go to the friends we know.
Laugh at all the things we used to do
Miss me, but let me go.
We have so very many happy memories of Martin. One of my favourite memories of him was during the years just after we had moved to Ardrossan. He loved animals but every morning he washed his face with a cat. He would come out of his room, scoop up Soksie and cuddle her while he rubbed his face into her fur. The cat seemed to like it and so did Martin. Since cats are pretty clean, Martin was always a winner. He would pet that cat, put it down and then he was ready for his breakfast. He must have been about 10 years old, and Iím not sure that I ever saw him wash his face with water.
The times we worked together are memories that I will cherish. Over the years Martin has helped us in our Pottery in many ways. I was always grateful for his help, but now I wish that Iíd shown it more. Work has been a part of our lives and not just a job and all of our children have helped at our sales. Many of you here would have met Martin bringing down plates of cookies and clean mugs. He was a quiet worker but was always ready with a smile and hello. Martinís first job was probably washing pot boards at 10 cents a board. He pressed tiles (and he could make 75 tiles an hour), and made the damp dust for the tiles. He fettled pots. He measured and cut steel for the nicest ware rack we use and for other welding projects. There were lots of other jobs he did so that by an early age he learned how to work; and we were proud of his abilities. Last August Martin and I poured and finished about 4 cubic metres of concrete. The concrete came late and the day was warm so we had to work hard and fast to get the concrete floated and finished before it set. Except for helping him to wood butcher his kitchen cabinets this was to be last time we worked together. I was very grateful for his help. He was a strong and capable man and when we finally finished I felt very stiff and old in comparison to him. He did it for love, and we talked about helping Anna and Jeremy pour their garage pad this summer. I will cherish this memory because we worked like friends, like equals instead of father and son. I wanted to be his friend.
In the year 2000 our family, along with our extended family of John and Rita McGie their sonís Michael and Stephan and our friend Jim Speers, created a time capsule to be opened sometime in the future. We opened it the other night because I wanted to read the message Iíd written to Antonia and each of our children in the event that I had died. Martin would have been 13 in that year. I wrote ďDearest Antonia, How can I tell you how much I love you and our family? I hope that the opening of this time capsule finds all safe. I know that I could be dead, but I would pray to all the gods that ever were and all of the gods that are to come that you and our children are well. I am so grateful to all of you. And I wrote to Martin. ďMartin my son, I love you and hope weíve had many years of friendship and I hope that you too have found a job that you love. I know that now you think that you want to be an RCMP officer and I canít imagine a nicer one. I love you very much.Ē I wish that I had more time to be a better friend to my son.
Last summer Martin became the proud owner of his own house. And knowing Martin he was probably not as proud as we were. We helped him move and his uncle Graham Place helped him to upgrade some of the wiring. He seemed so happy to own it and to have his dear friend Justin Gaudet renting the main floor. He was determined to succeed and it was our pleasure to help. And he seemed happy. I can say that we were always proud of Martin. He was a happy and kind child and he grew into a very kind man. We didnít know and couldnít guess how unhappy he was.
Antonia and I have cherished our precious children since they were born. They have been our love and heartís delight for almost 30 years. Martin was our only son, our precious boy and we are broken hearted. Martin took his own life on January 28th or 29th .
Martin did leave us a letter. Part of what he said was, ďFirst of all I want you to know that this is not your fault. You have all supported me throughout my life and respected my decisions even when you didnít agree with them. I know that you want what is best for me, and I love you for that, even if I havenít always shown it.Ē He went on to tell us that he had been depressed for many years. And there was regret, he wrote, ďThere is so much that I wish I had talked about a long time ago that I instead kept to myself.Ē Terrible words to read. But we didnít see depression when he was younger. We think that when he wrote his goodbye letter to us he was in such a very dark place that he couldnít remember the good times that he shared with his friends and family who loved him best.
A tragic and chilling fact that we learned this week, was that before Christmas Martin had been taking the stop smoking drug, Champix. He stopped taking it a few weeks before his death, but Health Canada had forced Pfizer Canada to add this caution to itís product. ďAdverse effects of depressed mood, agitation, changes in behaviour, suicidal ideation and suicide in patents attempting to quit smoking while taking ChampixĒ.
Dearest Martin, you were a quiet and private person and we respected your privacy. We are so very sorry for your pain and we feel so ashamed that we didnít know about your depression. When we saw you, you almost always said that things were going well, that you were working or hanging out with your friends and having fun. You had a secret and couldnít tell us or your friends. We know that you are free from pain now, but we are not. Your letter to us ended with these words,Ē Donít feel bad for me, in these last few weeks Iíve felt more at peace than I ever have before. I hope one day you will forgive me for this. Goodbye, signed, MartinĒ And it is easy to forgive you Martin, much harder to forgive ourselves. We will try to remember the happy times and not the grief that we feel today.
And we have to learn, somehow, to forgive ourselves. The medical examiner told me that hardly a day goes by without a suicide in our region. He said, Depression is a disease like cancer or heart disease but itís invisible. For some reason Martinís depression became so dark and powerful that it blocked out the light in his life and the love from his Friends and Family.
We are not a religious family but I believe that Martin is now part of all that I see. I will see him in the faces of his sisters and cousins and in crowds of people. I will see him in the beauty of nature and when I look at the starry sky. His spirit will be with Antonia and I and with all of those who loved him until we die.
---
home
---